Four of America's best-known brands and their success stories.
---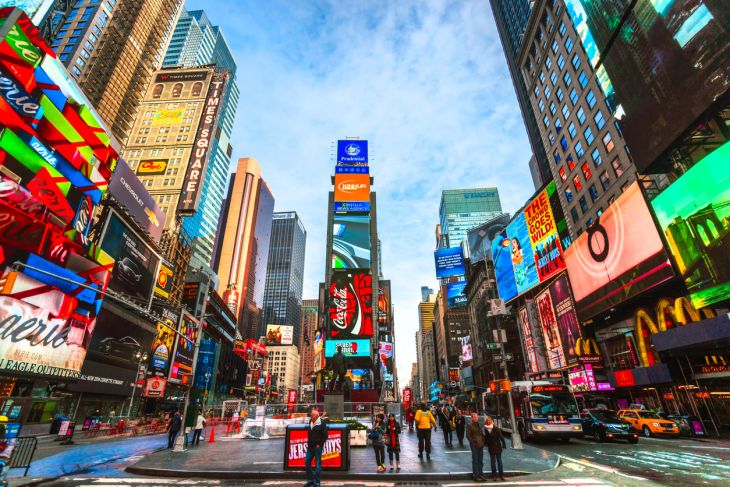 ---
When you're looking to build your own brand identity for your business, it's often helpful to look to some more well-established brands for inspiration. Many of these companies started with humble beginnings. With some hard work, a touch of luck, and a solid brand identity, these businesses took off and became the powerhouses you know and love today.
Nike.
Named after the Greek goddess of victory, Nike is the world's largest athletic shoes and apparel supplier. The company was founded in 1964 as "Blue Ribbon Sports" by Phil Knight, a track athlete at the University of Oregon, and his coach, Bill Bowerman. In the first year of business, the company sold 1,300 pairs of shoes out of the back of a car at college track meets.
Seven years after BRS's founding, the company rebranded as Nike with the iconic Swoosh logo and slogan, "Just Do It," now recognized worldwide. The Swoosh logo was designed by a student at Portland State University that Phil Knight taught in his accounting class. Knight overheard this student say she couldn't afford painting supplies and asked her to do some work for his budding company. Needing a logo for their new line of running shoes after the rebranding, Knight invited the student to develop some ideas. The result was five different designs. Knight finally settled on the iconic Swoosh, despite not loving it at the time.
Nike released its first "brand ad" in 1977 called, "There is no finish line." The poster featured a photo of a runner wearing a yellow shirt on a two-lane road on rolling green hills. Below the picture in the white space are several paragraphs describing the experience of running, ending with "We at Nike understand that feeling." Notably, the ad did not include any of Nike's products. By 1980, the company obtained a 50% market share in the athletic shoe market, and the company went public later that year.

Levi Strauss & Co.
One of the oldest American companies, Levi Strauss & Co., is known worldwide for its brand of denim jeans, founded in 1853 by a German immigrant who moved to San Francisco to open a branch of his brother's New York dry goods business. Jacob Davis, a local tailor who regularly bought cloth from Strauss' store, was asked to make a pair of work pants that wouldn't fall apart. He came up with the idea to fix metal rivets at the various strain points. The idea worked, and Jacob decided to patent the process. He needed a business partner to help fund the patent. That's where Levi Strauss came in.
Manufacturing of these denim "overalls," as they were called at the time, began in the 1870s, and by 1890 the rivet patent went into the public domain, and each product manufactured is assigned a number. That's why "501" is still used today to designate the popular copper-riveted jeans.
Levi's designed the more ornate logo for the brand in 1892. Since these jeans were meant for laborers, the badge for the brand included imagery of two men and two horses pulling a pair of jeans in opposite directions to depict the toughness and quality of the work apparel. Consumers can still find this badge on the label of Levi's jeans today.
Another feature of the jeans is the red tab added in 1936, 63 years after blue jeans were invented. It was developed to differentiate the authentic Levi's jeans from other brands. The bright red tab positioned on the jeans' back pocket stands out because of the contrasting colors, and it has been a crucial part of their marketing ever since.
Coca-Cola.
We can't talk about the most prominent American brands without mentioning the Coca-Cola Company. The carbonated soft drink was originally marketed as a non-alcoholic option during the temperance movement and an over-the-counter medicinal remedy.
Invented by Confederate Colonel John Pemberton, who was wounded in the Civil War and addicted to morphine, he began experimenting with various tonics as a substitute for the problematic drug. Pemberton made the sugary drink with coca leaves and kola nuts for caffeine. Hence, the two ingredients together gave a stimulative effect.
Pemberton's bookkeeper is credited with naming the product and creating its logo with the distinctive cursive script, a familiar script for formal handwriting in the mid-19th century. Coca-Cola is thought to have made the first-ever "coupon" by giving away thousands of free drink coupons and plastering Atlanta's streets with posters and streetcar signs.
Coca-Cola's advertising has had a significant impact on popular culture and society. The company is often credited with inventing the modern Santa Claus as an old man in a red-and-white suit. Before that, Coca-Cola used images of high-class young women to sell its beverages, which later turned into celebrity endorsements from Salina, Elvis, David Bowie, George Michael, Elton John, and Whitney Houston.
Coca-Cola products today are sold in more than 200 countries worldwide. Consumers drink more than 1.8 billion Cokes each day. The company is one of the largest companies in the world, with $38 billion in revenue in 2021.
Conclusion.
No matter if your business is just getting started or if you have a brand that's been around for decades, the common thread with these successful companies is a business model that centers around creating something useful and building a marketing plan that evokes emotion, effectively sticking in the minds of consumers. The most successful companies have some basic ingredients: luck, good people, and a drive to succeed.